Stretches
STRETCH 1: OUTER HIP, HAMSTRING, AND GLUTEUS.
While laying on your back, use the strap to guide your foot across the body in a controlled motion to stretch the hip and glutes holding for 15-30 seconds. Pulling the strap towards you in this position will effectively stretch the hamstrings as well.
While laying on your back, extend your leg towards your side slowly in an upward motion eventually aligning with the hip. Hold for 15-30 seconds.
STRETCH 2: QUADRICEPS - Lay down flat on your stomach or stand while holding onto a nearby grip for balance and PULL your leg UPWARDS TOWARD your glutes. Hold for 15-30 seconds to effectively stretch the quadriceps.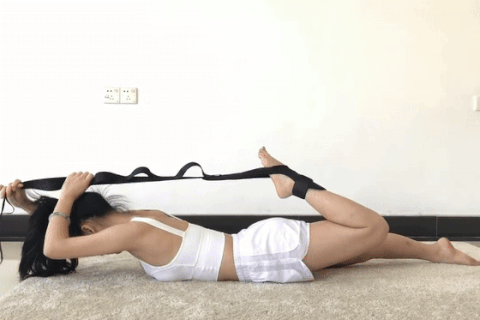 STRETCH 3:  FOOT, CALF AND HEEL
While seated on a chair or the floor, pull the strap towards you to stretch the bottom of the foot holding for 15- 30 seconds. This position will effectively stretch your foot, calf and heel.